Souks and Medinas of Marrakech: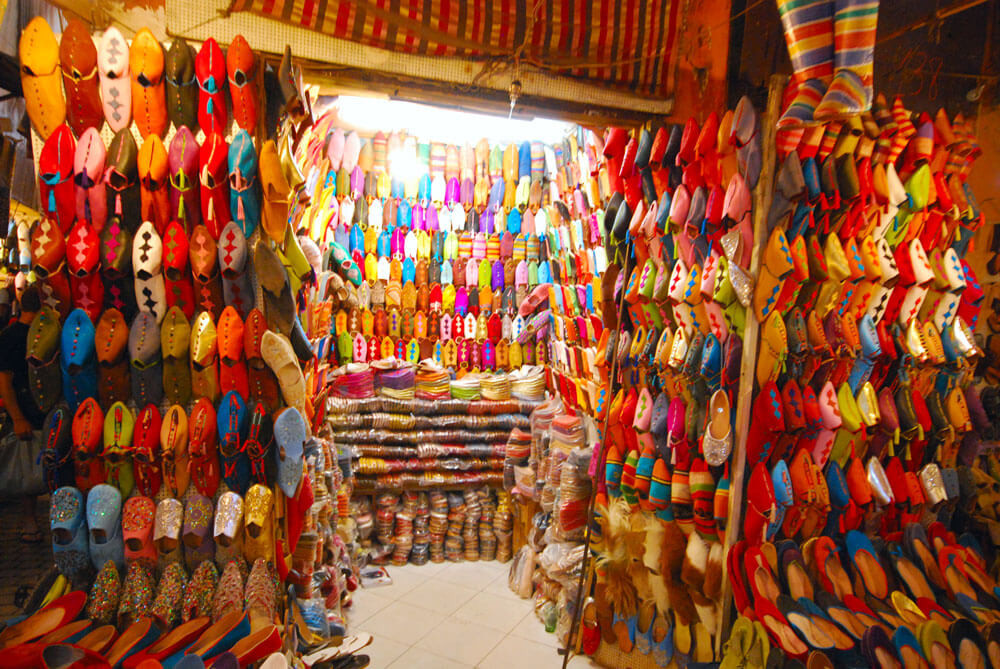 If you are willing to meet local people selling everything from fresh vegetables and spices, leather and jewelry, than do not hesitate to visit the many souks and medina of Marrakech . and at the same time don't forget to have fun seeing the acrobats, snake charmers and musicians of the Djemaa El Fna square and visit the Medersa Ben Youssef, a former Islamic college.

Marrakech is a city full of many souks and markets, hiding in the narrow streets and squares of the Medina. During the morning visit, you will visit the most famous souks of Marrakech that are part of the daily unrest. Whether you are looking for a bargain or simply for the pleasure of the eyes, do not miss such a wonderful visit.

The souks of Marrakech are positioned among the largest and most wonderful in Morocco, there are everything: jewelry, spices, crafts, cooking, pottery,slippers, clothing and much more.

To get to the souks of Marrakech is simple, just go to the famous place Djema El Fna and venture into the medina. The history of the souks is old. These places were favored by the caravaneers who traded their goods before facing the Moroccan desert. Even though the souks lost their artisanal wealth by the arrival of many products from China, some craftsmen (carpenters, ferroniers etc.) continue to use their traditional knowledge.

In Marrakech, the activity of the souks mobilizes more than 40 000 craftsmen, specialists in many fields, simple and sometimes unthinkable! In all, 18 souks are listed from the souk babouches, souk spices, the souk of carpets, a maze whose goal is to get lost to move only to the rhythm of scents, colors and noises!

A confrontation with the Berber civilization that gives life to these places and attract you among them.
Quickly you will lose your head among the different products. The solution to the favorite? The negotiation, a real game settles then between the Moroccans and the tourists!

As you go, you will go from one souk to another, each one of them is destined for a type of merchandise. In Djemaa El Fna, snake charmers , acrobats and Gnawa musicians engage the crowd by creating a lively atmosphere.

Visit Medersa Ben Youssef, a former Islamic college named after Sultan Ali Youssef, which has influenced the expansion of the city. It is one of the largest colleges of theology in North Africa with its home can hold 900 students. The building has been renovated and reopened to the public as a historic site.

The unifying force of these improvised markets is therefore authentic!