Ourika valley day trip
Situated around thirty kilometers from Marrakech, the Ourika Valley is a heaven of greenery and freshness that enables you to explore tenderly the surroundings of the High Atlas. Dug and shaped by the river Ourika, the valley is still relatively preserved.Populated by Berbers who have kept a true and mountain way of life, it welcomes to change of landscape as its quiet is the inverse of the tumult of the big city yet close. Other than the calm, the valley likewise offers a great deal of decent variety until Setti Fatma, his last village.

We offer the ourika valley trip in one day. It is also possible to rent a vehicle to survey the 70 kilometers between Marrakech and Setti Fatma.
Between the many and changing panoramas, a visit of a Berber house, a botanical garden and a hike to finish, a day trip in the Ourika Valley is full and brings a new facet to a visit of the region.
The shortest 30 km ever !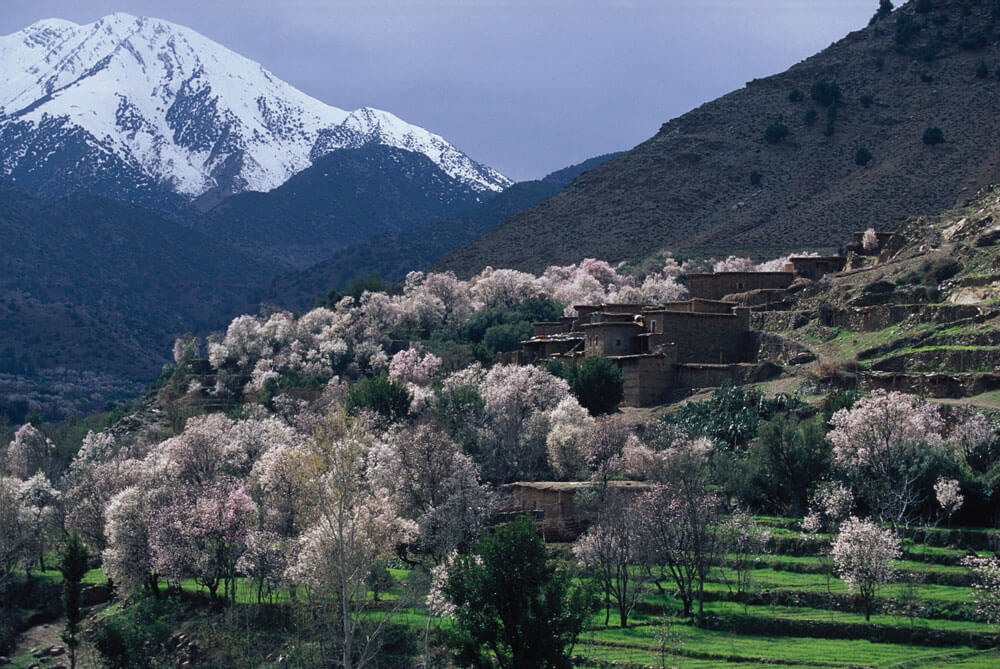 The thirty kilometers that separates Marrakech from the entrance of the Ourika Valley, allows to measure the contrast that will wrap the day. On one side the ocher city that wakes up with its tumult, its noise and its agitation and on the other side the mountain that is getting bigger and bigger with only a few villages here and there, separated by fields. As the road progresses, the aridity and heat of the city seem far away. Indeed, green meadows begin to occupy the landscape, accompanied by a few more trees that contrast with the spring snow always present on the summits.

We know some Berber family who will be happy to receive you anyway. The journey to the Ourika Valley is in most cases early morning, it is the perfect time to have breakfast that the tourist did not have time to take. It is also the moment to become aware of how the Berbers continue to live. The Berber house has survived the centuries and continues to exist despite the modernism that comes however discreetly invite. We find a stable attached to the house and a bread oven that works over a wood fire as before.


The Berbers are very welcoming and you can enjoy a local bread with homemade butter made with cow's milk from the barn and honey from the hives of the garden. The inhabitants are happy to explain their breeding techniques, their farming tradition, their culinary arts. Of course, a small tip is always welcome to thank them for this improvised breakfast and for all those stories that make the history of the Berber people. It is then time to continue the road that continues between Ourika and the mountains.